Chip Packing
---
1. Organic contamination Removal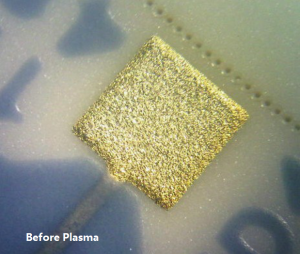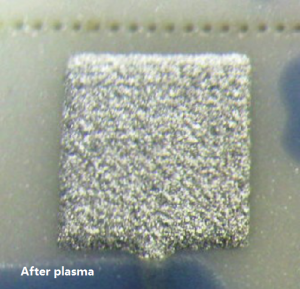 Plasma capability to remove oxide, fluorine, etc.  On bond pads requires chemical effects of the microwave plasma to create free  radicals forming new volatile molecules with the contaminants being removed from the process chamber.
2. Surface Cleaning (Mold, WireBond, etc.)
In chip packaging, plasma cleaning is essential for improving the cleanliness of bond pads prior to wirebonding. Ball shear and stitch pull strengths are dramatically enhanced by plasma surface cleaning.
3. Surface Activation (FlipChip Underfill, etc.)
Microwave plasma cleaning prior encapsulation with mold compound and in FlipChip packaging underfill  technology  has become a must for yield improvement. All surfaces, regardless of the volume under the die are perfectly activated and conditioned.
4.Wafer Surface Process (Cleaning/ Activation)
Plasma treatment  is often chosen to compliment wafer surface interface conditions and can result in conductive or insulating interface.  Semiconductors, glasses, quartz and even plastic respond favorably to plasma activation bonding.
Please also checkout SU8 Photoresist Removal.