Chip Packing
---
1. PLASMA SURFACE CLEANING – ORGANIC CONTAMINATION REMOVAL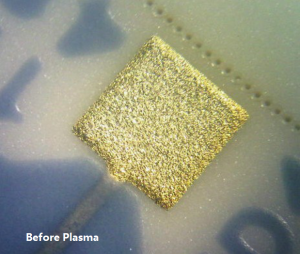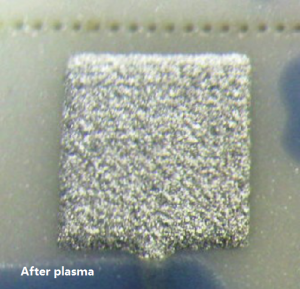 Microwave plasma treatment has been a decisive factor to remove oxidation, fluorine and other organic compounds in the semiconductor industry.  As chip size is getting smaller and denser, plasma surface cleaning plays a very important role in improving coating or bonding adhesion.  The free radicals generated by our microwave plasma cleaner removes this organic contamination and deliver an ultra-cleaned surface for improve adhesion or coating between two surfaces.
2. MICROWAVE SURFACE TREATMENT - MOLD, WIREBOND, ETC
Epoxy outgassing during die curing process contaminates the bonding pads and subsequently inhibits the integrity of wire bonding.  A short microwave plasma treatment will remove these contaminations and increase the surface energy on the bonding pads for better wire bonding performance.  Similarly, a minute contamination prior to mold encapsulation could result in delamination on the device.  Plasma surface cleaning has shown to improve yield of some challenging process.
3. PLASMA SURFACE ACTIVATION – FLIP CHIP UNDERFILL, RDL in large panel
Against conventional sputter process, microwave surface treatment has shown to be a better alternative in penetrating small under fill gaps in flip chip and WLCSP applications. Free radicals generated by microwave plasma cleaner easily penetrate into the small under fill gaps to activate the surface, thus, improving wicking speed and avoid under fill voids.  The volume underneath the die dramatically conditioned for yield improvement and long term reliability of the package.    Plasma surface cleaning has proven to be an important process to increase the surface energy on RDL during fan-in/ fan out process.
4. MICROWAVE SURFACE TREAMENT  – PLASMA ASHING AND DESCUM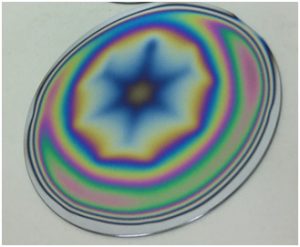 One example of microwave surface treatment could be the use plasma asher for photoresist removal. The advantage of microwave technology is the generation of high radical density to obtain high removal rate and low damage process during photoresist removal. Objective of ashing is the rapid removal of resist. After photoresist development, residual trapped in between streets is also remove by a descum step with a gentle microwave surface treatment.  Microwave plasma cleaner has also help to improve the wall profile of the masking resist.