PHOTORESIST REMOVAL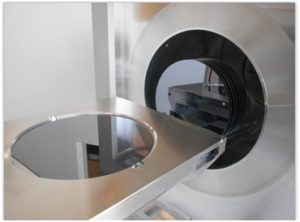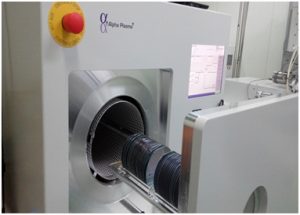 A key technique to apply low-pressure plasma to photoresist removal is usually restricted to the total removal of organic layer on the wafer.  Resist removal is often carried out in an oxygen plasma where oxygen radicals reacts with the photoresist and the by-products are moved away from the chamber.  Etch rates can be enhanced by temperature or small additions of some reactive gas to the production of oxygen atoms.  Alpha Plasma microwave technology offers photoresist removal with unprecedent precision and control to avoid wafer damages.
DESCUM PROCESS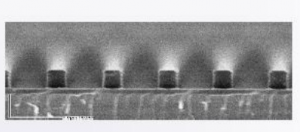 Following photoresist removal and patterning, photoresist descum is often necessary to remove thin film/ scum after pattern development.  Microwave plasma has proven to be an effective way to descum these areas, hence, providing subsequent etching uniformity and reduce adhesion properties in lift-off technique.  Descum step is also important to improve the side wall profile of the masking resist.
SU8 RESIST REMOVAL

SU8 photoresist is commonly used as a resin for making high aspect ratio MEMS device structures.  Unfortunately, the properties of cross-linked SU8 make the resist removal difficult. Dry microwave plasma ashing generate high density free gas mixture radicals offer a gentle chemical etching on SU8   photoresist removal without attacking onto the sample.  It also increases surface hydrophilicity for MEMS device.  Our tools are equipped with precision temperature control to assist you to create tomorrow new technology.  Both manual and fully automated handling systems are available.
Polymer Removal
Plasma surface activation has also proven to be able to increase the surface energy, hence, to improve adhesion characteristics. However, in the semiconductor production, high performance polymers are used because of their minimal thermal expansion, minimal out-gassing under vacuum, good wear resistance including chemical resistance to acids, alkalis, etc. Plasma polyer removal is also commonly used in the removal of polymeric photoresists in IC fabrication. The polymer removal rate is highly influence by the etching gas used. Radicals generated by microwave frequency removes the polyer even from deep and narrow trenches.
We provide all kind of plasma solutions in most of the Asian countries including Malaysia.